Earvin "Magic" Johnson | NBA Legend/CEO | Magic Johnson Enterprises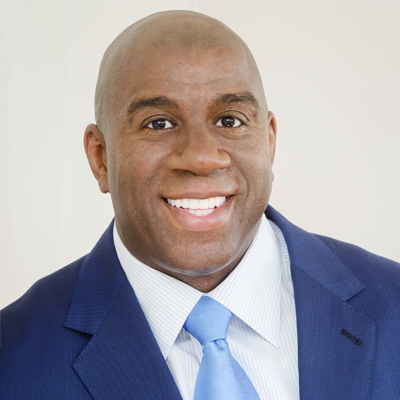 Basketball icon Magic Johnson was born Earvin Johnson Jr. on August 14, 1959, in Lansing, Michigan. For 12 years, Johnson dominated the court as one of America's best basketball players. He has since then built up a business empire, which includes real estate holdings, several Starbucks franchises, and movie theaters.
From a large family, Johnson grew up with nine brothers and sisters. Both of his parents worked—his father for the General Motors plant in town and his mother for as a school custodian. He had a passion for basketball, and would start practicing as early as 7:30 a.m. At Everett High School, Johnson earned his famous nickname, "Magic," after a sportswriter witnessed him score 36 points, 16 rebounds, and 16 assists in a single game.